Hamilton is a host unto itself. It has the power to bring people all over the world to see a unique and incredible musical. I've been lucky enough to see Hamilton eight times now and I couldn't miss the opportunity to see Lin-Manuel Miranda reprise his role as Alexander Hamilton.
This show was special for a host of reasons. For Lin-Manuel, he gets to perform his opus on the island his family is from. For the audience, we get to see him play the lead role one last time.
This review is about the evening performance on January 17, 2019.
As you're reading this go ahead and put on the Hamilton Soundtrack, I'll wait.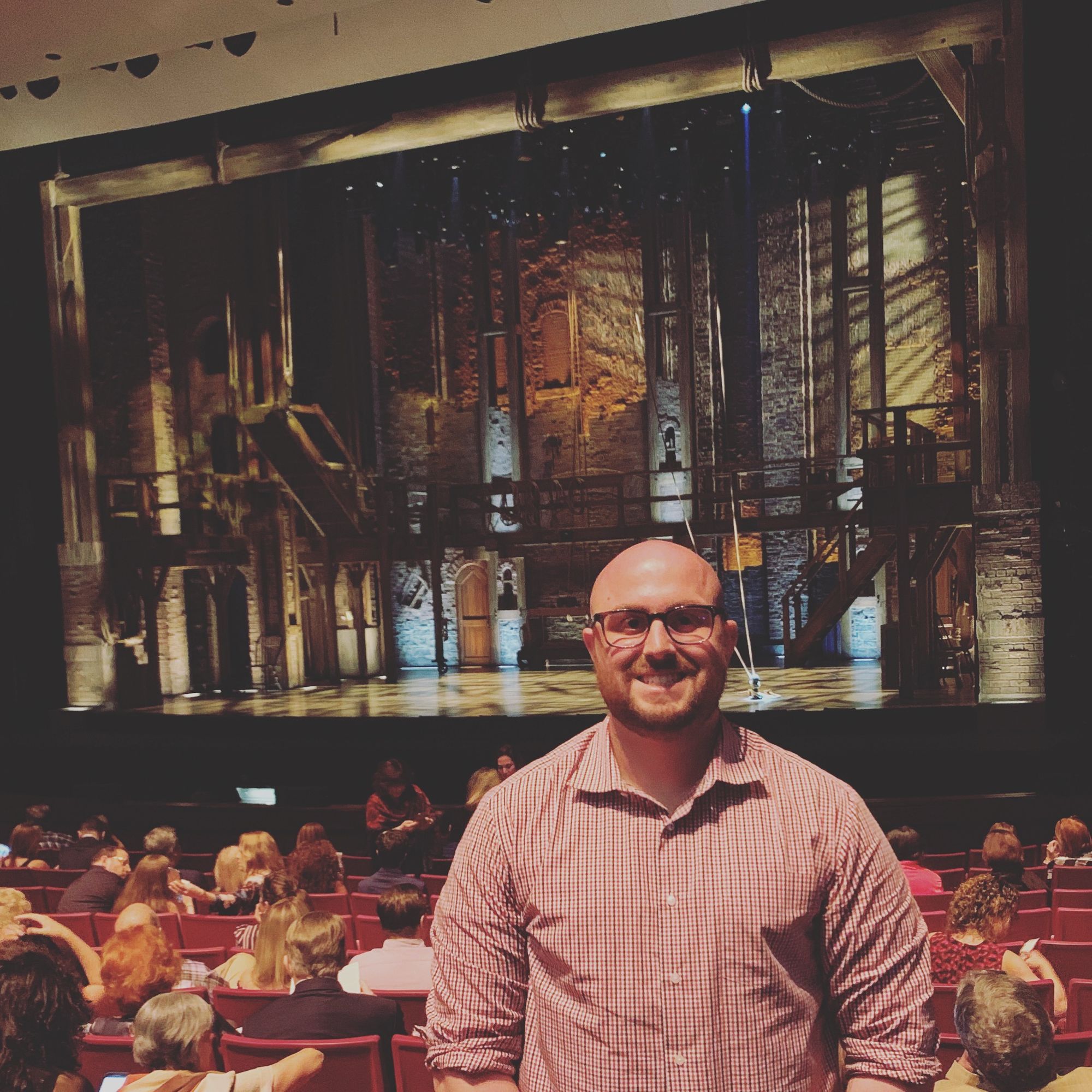 Touring Cast
Before we get to Lin-Manuel, we need to discuss how a touring production works.
First off, this is a touring cast. After this show runs in Puerto Rico, it will be picking up and going to San Francisco for an extended run. Another actor will be playing Alexander Hamilton there.
Touring productions of shows tend to be produced more cheaply than their open-run counter parts. The actors are often earlier in their careers as it's hard to find people both experienced and willing to travel across the country for months at a time.
That being said, the actors as a whole were truly excellent and I'm sure they all have big careers ahead of them.
Lin's Role
Let's get to the reason you're here, how was Lin-Manuel? Well, he was incredible, but surprisingly different from his original take on the role. During the original run, his life was a complete whirlwind. He had spent 5 years bringing Hamilton to life and was moving a mile a minute.
This came out in the performance. I've described the original Hamilton as a puppy dog. He emphasized the scrappy in young scrappy, and hungry. This was particularly noticeable in the first act when Hamilton is only 19.
Now Lin-Manuel is a little older, and a lot more relaxed. His performance actually reminded me a lot of Javier Muñoz. Instead of the scrappy Hamilton, we get the brilliant Hamilton. The hero and a scholar.
This was amplified by the juxtaposition of Lin-Manuel and the rest of the cast. While this cast has only been performing Hamilton live for about a week, Lin has performed in this role over 500 times. In fact this changed the portrayal of many other characters, but we'll get back to that.
Even though he was much more mature, Act 1 was a delight. During the opening number, Alexander Hamilton, Lin-Manuel's arrival on stage was greeted with such thunderous applause the show had to pause for a full minute. His lip visibly quivered as he waited for the applause to die down.
It was clear to the audience that Lin-Manuel was having the time of his life on stage. He performed hits like My Shot and Yorktown like he was a Paul McCartney playing his greatest hits. During Nonstop he delivered an extra level of sass with the line "Treasury or State."
As I alluded to before, Act 2 was simply fascinating. The more mature Lin-Manuel was the expert in the room and this really showed in scenes like the Cabinet Battle(s) where he goes toe-to-toe with Thomas Jefferson. During It's Quiet Uptown, his grief surpassed Eliza's. Finally, his soliloquy in The World Was Wide Enough, which is incidentally my favorite song on the soundtrack, was perfect. This Lin really "imagined death as so much it feels more like a memory."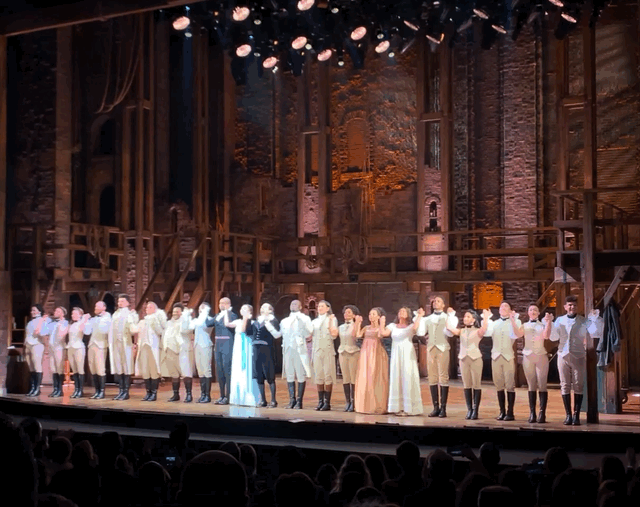 The Cast
The cast as a whole was excellent, however it's completely unfair to give them a proper evaluation next to Lin-Manuel, so I will refrain. Lin is a PhD in the same room as a bunch of AP students. Everyone is brilliant, but experience will always win.
As a result, it really hit me that this is an ensemble show. Looking at the original cast recording, Lin is only the leading credit on nine out of forty-six tracks. Leslie Odom, Jr., the original Burr, has nine of his own. Six are simply credited to the Original Broadway Cast of Hamilton and the remainder are fairly distributed across the remaining roles.
Two actors I need to call out in particular though, Donald Webber as Burr, and Simon Longnight as Jefferson/Lafeyette.
Donald Webber
I've now seen many actors take on Aaron Burr. Leslie Odom, Jr. sold him as a rat, a scoundrel. Brandon Victor Dixon portrayed a regal Burr, a man who believes  in class and keeping your mouth shut. Giles Terera in the original London cast was entitled, a man who said I deserve this simply because I'm me. These were all incredible and nuanced but they were similar.
Donald was the first actor I've seen to portray Burr as a man trying to live up to his family legacy. Everyone who loved him has died, and he needs to do what's expected of him. This came out in particular during Dear Theodosia when he sings the line "I'll make a million mistakes."
This was really special to see. A completely new take on Aaron Burr. Part of this surely came from the opportunity to perform with Lin-Manuel Miranda. As I mentioned earlier, this role is equal in size to Alexander Hamilton and Donald needed to live up to the man who gave birth to all of this.
I also sensed a mentorship relationship between Lin-Manuel and Donald that came out in their characters, although this might just be my own projection.
Simon Longnight
Simon was the most fun Jefferson/Lafayette I've seen since Daveed Diggs. While his role is small compared to Hamilton or Burr, it was obvious he was having a lot of fun with it.
In Act 1 Simon carried the same puppy dog energy Lin-Manuel had in his original performance. In Act 2 he had the swagger of a Senior in college before he realizes he's about to graduate. While I don't have much more to say on the subject, Simon was so much fun to watch he deserves a call out.
The Audience
During a live production the audience contributes almost as much to the show as the performance itself. Unfortunately, this was the worst behaved audience I've witnessed since The Lion King.
The entire row in front of me had their cell phones lit up throughout most of the show. Not just the casual check mind you, full on texting, showing each other pictures, etc.
I was even more disappointed that the ushers did nothing to mediate this, even though they were staring directly at the individuals responsible.
I wish I had been there the night before when Lin-Manuel called out a woman for filming. I imagine the crowd was on their best behavior after this.
Rating
What fun is it if I don't end with a rating scale for this show?
Lin-Manuel Miranda: 11/10
Ensemble: 7/10 - Great actors, being outshone by the greatest talent of their time.
Audience: 3/10 - Turn off your phones
Theater Staff: 5/10 - Tell people to turn of their phones
Overall: 9/10 - Really glad I went
Ads
These ads help me pay to keep this site up. Feel free to buy, watch, listen or ignore these like any other ad.