Covid has been rough, the constant tirade of malice and incompetence from the Trump Administration is exhausting. It's wreaking havoc on society and our collective mental health.  -10/10 do not recommend. That's why Hamilton, the movie was such a bright light for me.
I adore Hamilton. For those of you who're counting, I've now seen it eleven times live. Writing this now, I realize how much of my life revolved around Hamilton since I moved to New York.
First on April 8, 2016
My old roommate Taylor came to visit me right after I moved to New York. We planned the most extravagant weekend which included seeing the Original Broadway Cast. We even saw Jonathan Groff on his last week. Groff later came back for the filming of the movie.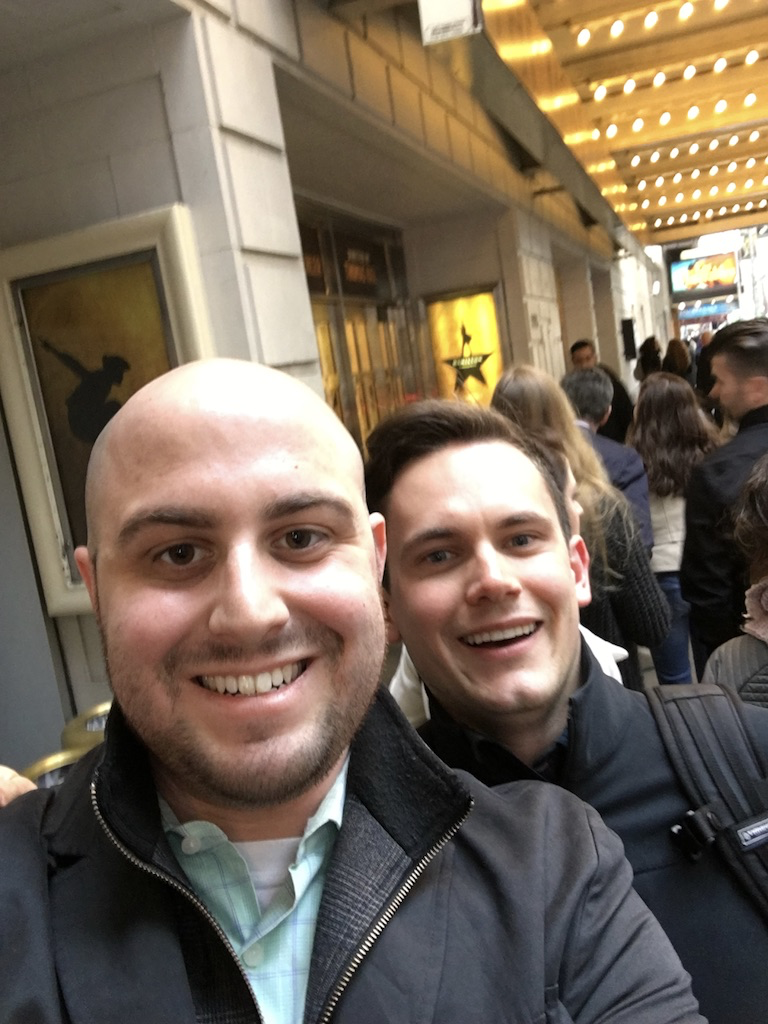 Aside on Jul 18, 2016
I went to my first Hamilton dance class at Broadway Bodies. I went to these classes for almost a year. It was there I met Alistair, who later became one of my best friends in New York.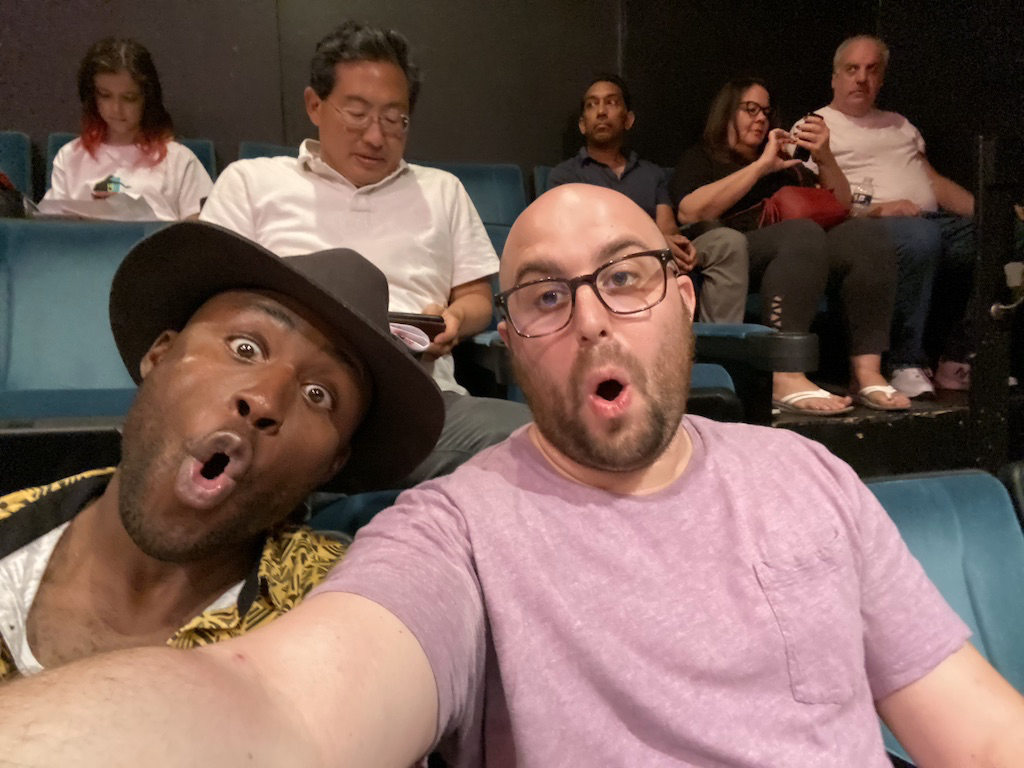 Second on Sept 10, 2016
I was so excited, I got myself a single ticket to go. I got to see one of Christopher Jackson's last performances. He was incredible, no one will ever do Washington like he did. There's this moment when he takes center stage in One Last Time and he's so presidential as he sings those hard to hit notes.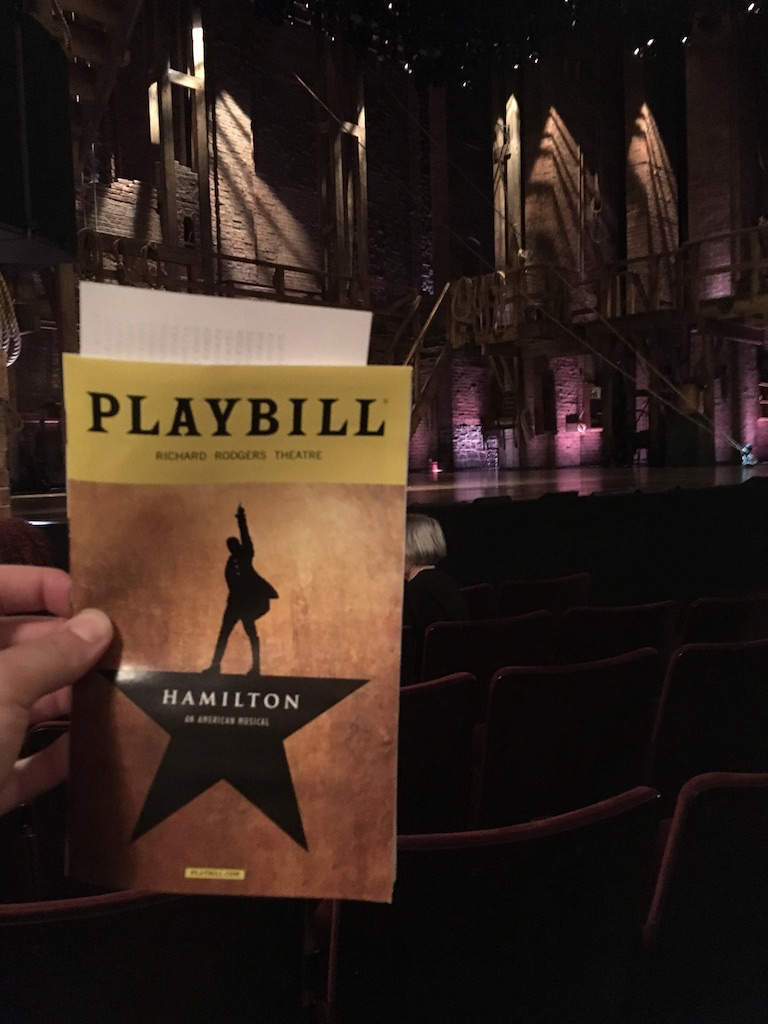 Third on April 8, 2017
I was in the middle of a new relationship, but I already had tickets to go see Hamilton with my (recently) former co-worker Natalie. We bought tickets almost a year in advance, the night of the 2016 Tonys. Natalie and I had a blast.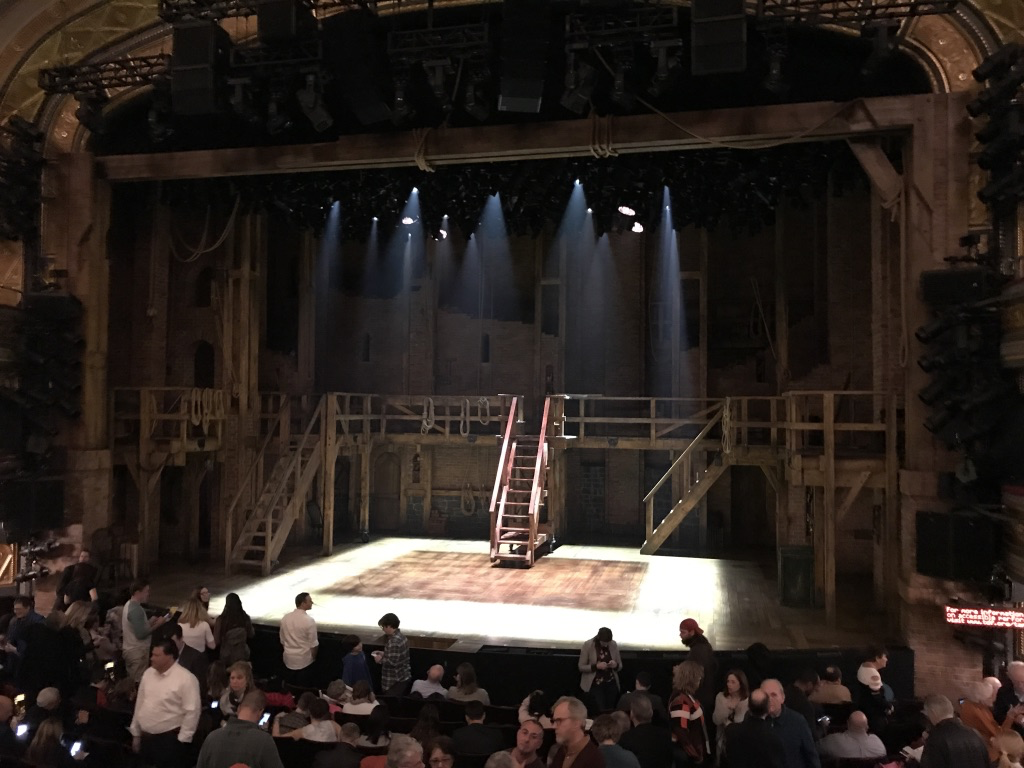 Fourth on December 9, 2017
Jorge and Kourtney came to town and I saw it with them and my then girlfriend. This was Jorge's first time seeing it and it was everything he wanted it to be. We went to a matinee had an a fantastic meal afterwards.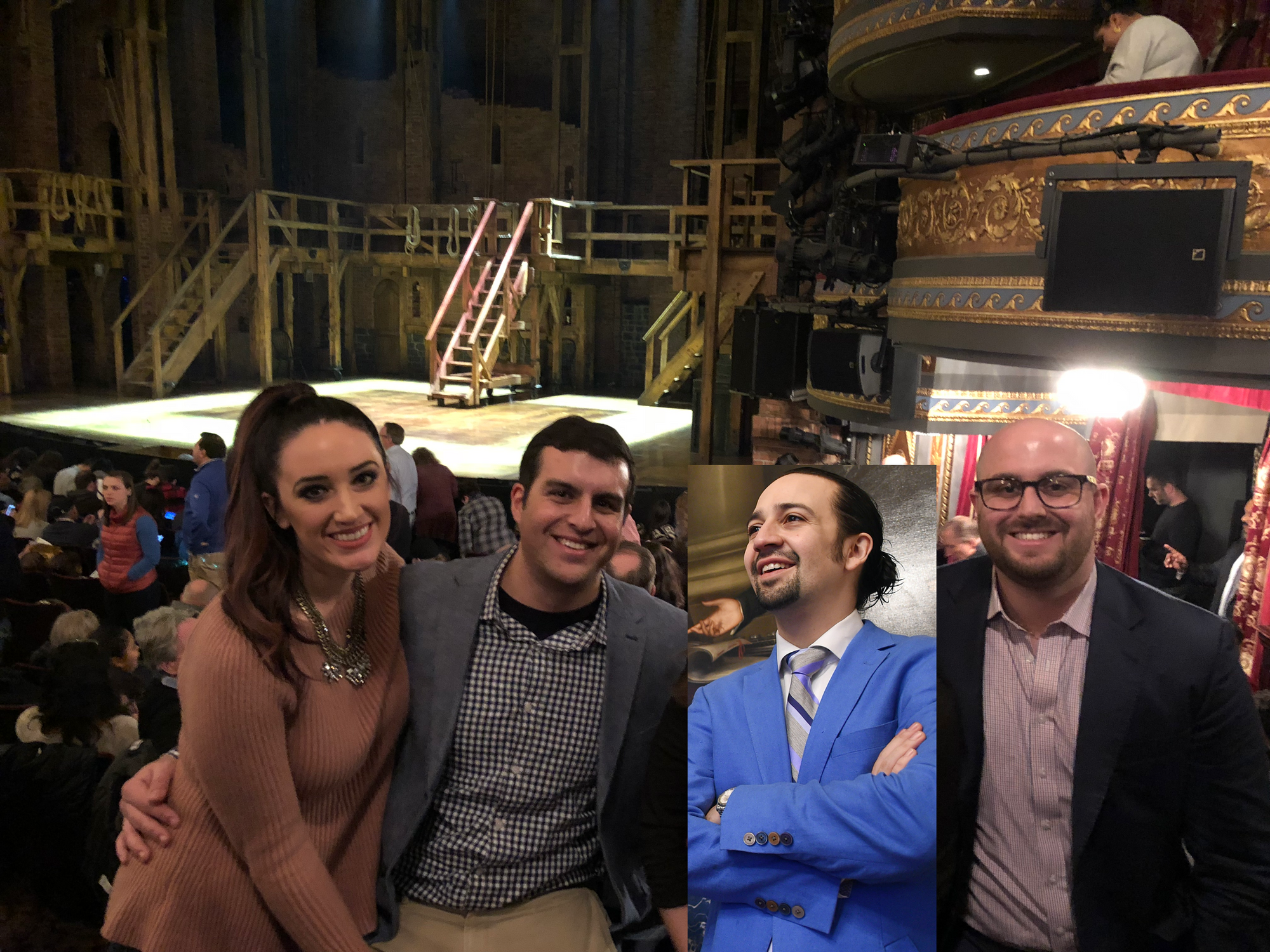 Fifth on April 6, 2018
This was a big one, I saw it in London. April 6th was the day my mother passed. I went on this trip a few months after a breakup. I had such a great trip, that was when I saw Mamma Mia for the first time. I hadn't been to London since 2013 and I remembered how much I loved it. I would go every year if America gets its shit together.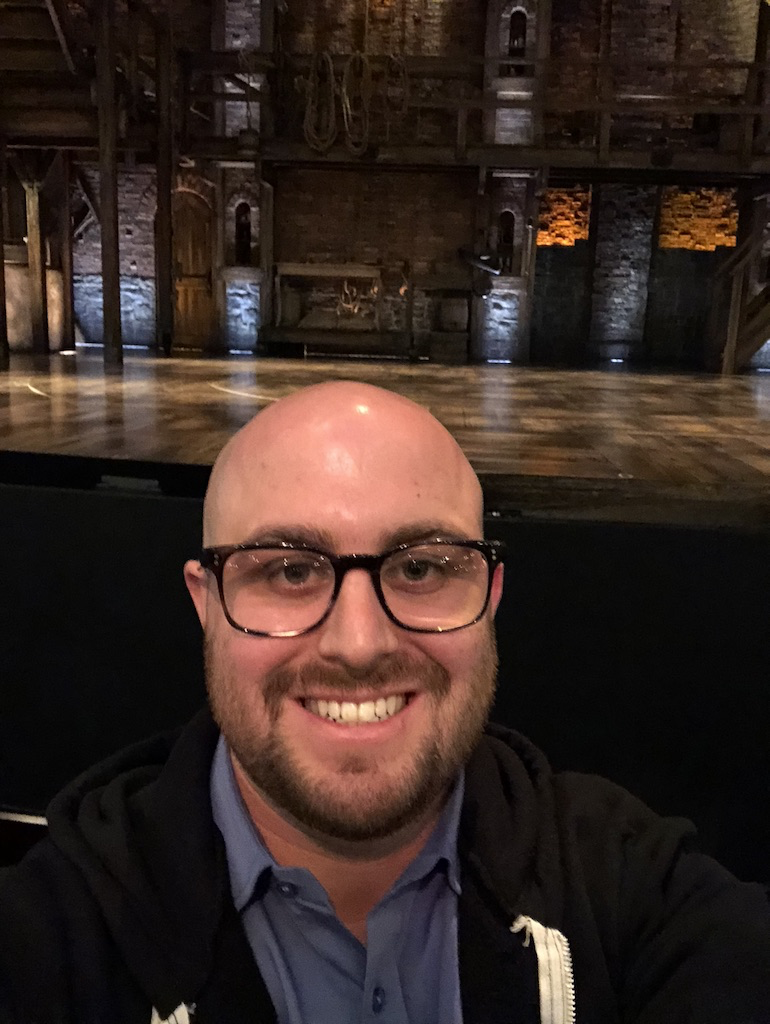 Sixth on Jul 11, 2018
This wasn't planned. My dad was in town for my birthday and we had plans to see another show, Head Over Heels. We were sitting in the theater when my dad asked me "how much do Hamilton tickets cost?" and just for fun I opened Stubhub and checked. They were $80/ticket. We bought them and ran. We sat in the very last row; I leant my glasses to my father because I had just seen it in London, and it was his first time ever.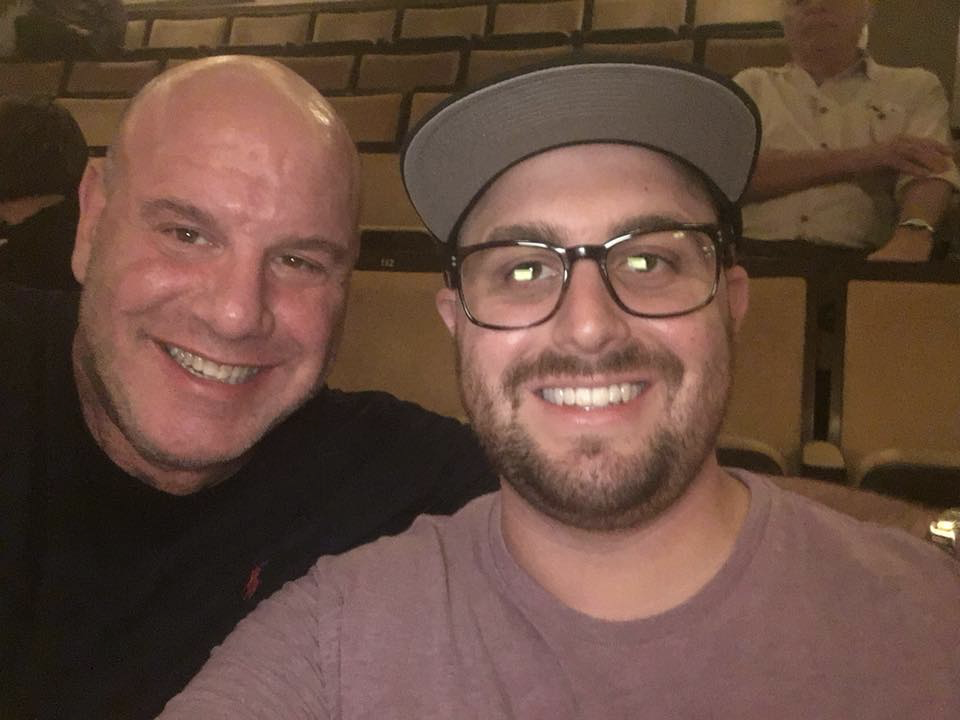 Seventh on Aug 4, 2018
Justin came to town for a few days. I had tickets for Cursed Child, same breakup, and I told him he could have the ticket if he came to town. We decided to see Hamilton while he was here. After buying the tickets, Justin sent me a Venmo for ton of ham. The name stuck, and we've been calling it ton of ham ever since.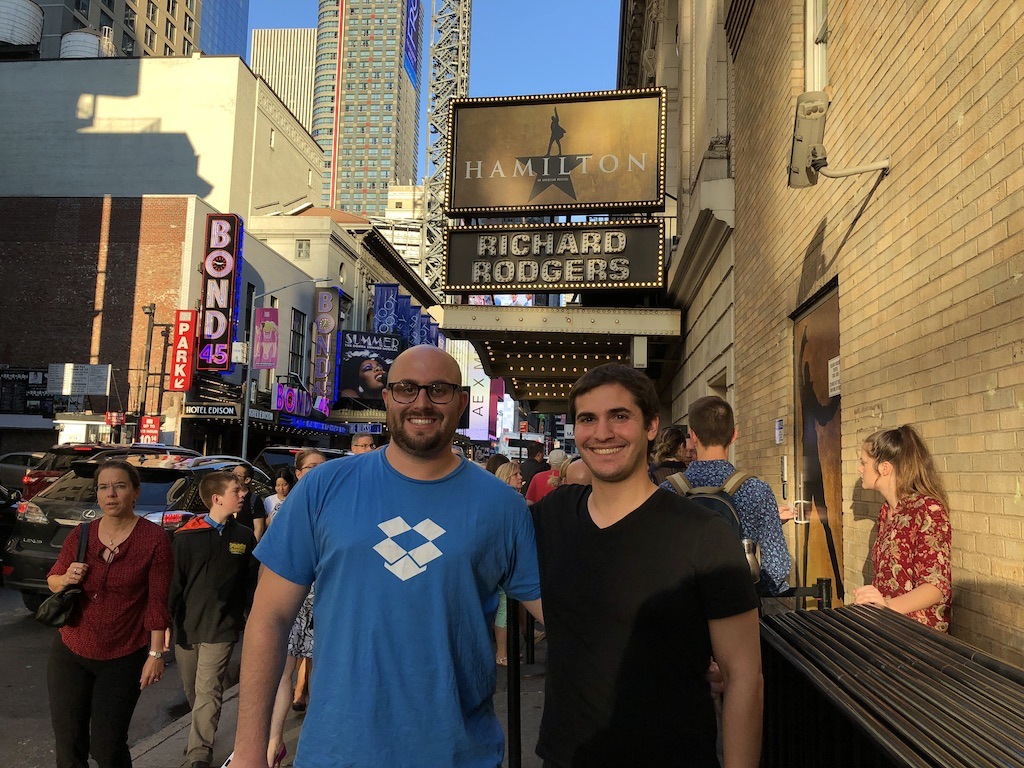 Aside on July 30, 2018
I had just spent a weekend seeing one of my favorite artists, Frank Turner, live three times in a weekend. He played every song I wanted to hear and even invited me on stage.
The next Monday, there was a release event at Barnes and Nobles for the In the Heights Cast Recording on Vinyl. It included a signing with the original cast. I woke up at 6 AM, got in line for tickets, took a nap, came back that night and got my playbill signed by Lin-Manuel Miranda and company.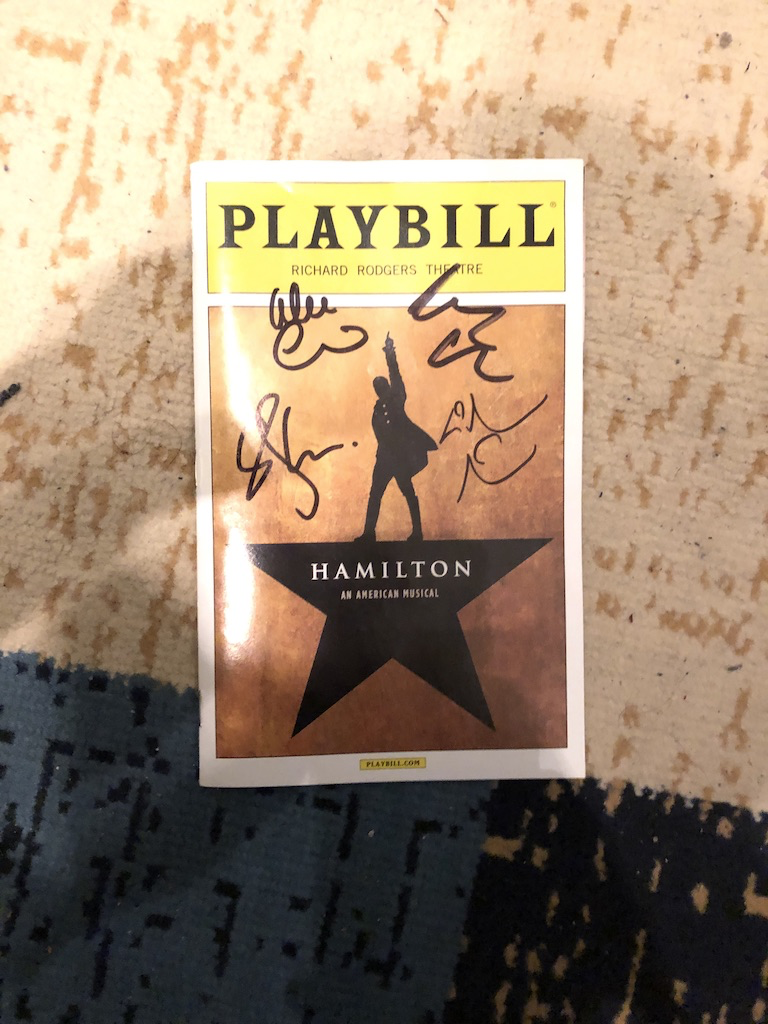 Eighth on Jan 17, 2019 in Puerto Rico
After Puerto Rico was devastated with no help from the government, Lin-Manuel reprised his role as Hamilton for just a few weeks. I managed to get myself a single ticket to see Hamilton on a Thursday in January.
Conveniently, my grandparents anniversary party was the weekend after in Florida. So I did a three leg trip. I got so sick from that trip and I had to leave the party early because I was so exhausted. This was in the before times.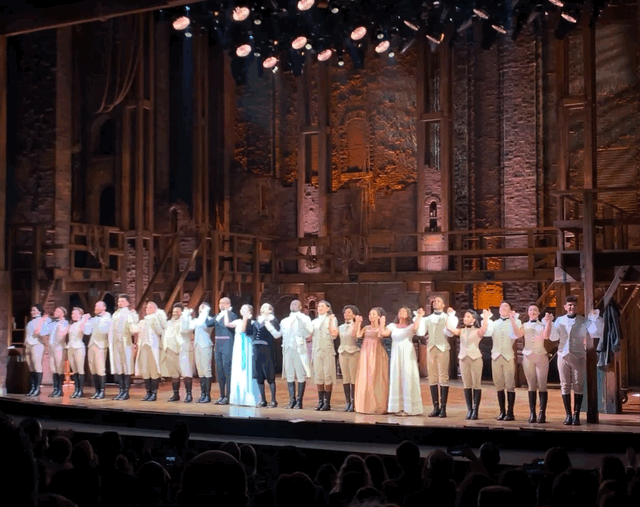 Ninth on Jan 23, 2019
I had planned this one nine months in advance. What I didn't plan, was the few months notice we got about Lin-Manuel in Puerto Rico.
I got together a bunch of Dropboxers and my friends Steve and Meredith from college. Steve kept handing me drinks and by Act II there was a drink in each hand. That was the one time I truly saw Hamilton drunk.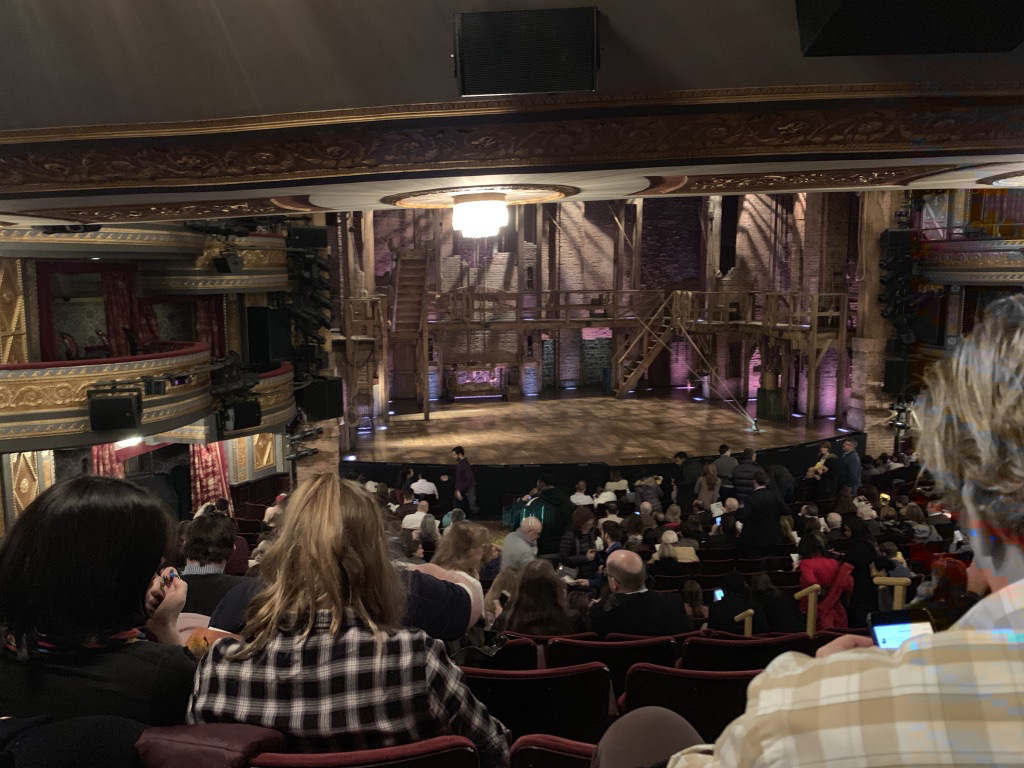 Tenth on Jan 5, 2020
In 2019 I went back to London and hung out with my friend Marcel who I had met in Israel at a conference. I also saw a concert production of Les Miserables while I was there. I spent 2019 on an airplane. I was so tired at the end of the year.
I took a two week staycation over the New Year; it was a roller coaster of a year and I needed a break. As part of my routine I would go for long walks in NYC. One day I set out to get Hamilton tickets by buying them minutes before showtime. Recreating the circumstances on my 27th birthday. I found a ticket on TickPick and sat third row center mezzanine. I spent that show processing the previous year.
The tenth was a palette cleanser from 2019 for me. At the time I thought I knew what a bad year looked like.
Eleventh on Feb 11, 2020
This was a celebration, I got 50 people tickets to see Hamilton in Feb. I brought most of Dropbox NYC. We all saw it from the Orchestra. It's amazing that was this year, that feels like several lifetimes ago.

Covid
Bridging the gap, Trump dodges an impeachment, the virus is isolated to Wuhan, and my dad and I still think theres a chance in hell we're going to Japan in March, as if. The idea of the US being hit is laughable.
A few weeks later we start locking down. It's on the West Coast, a Seattle nursing home. Dropbox starts working from home. It's starting to pop up in New York. I still think it's okay to go to the gym.
Slowly and then all at once New York is totally shut down. Cases start skyrocketing. We tell the country but no one listens, Trump insists the whole thing is a hoax. This is how it spreads to every corner of America.
New York cases calm down and all the red states reopen. Florida's Governor De Santis beats his chest that they "followed science" by reopening everything right away.
Meanwhile, George Floyd is murdered. White America abruptly wakes up to systematic racism and starts talking about it. There are daily protests. I think about my friends and hope none of them become a hashtag.
Donald Trump sprays tear gas on protestors in front of a church; he shuts down visas and I have friends worried about being deported. Trump refuses to wear a mask for another month.
Half the country is infected, Florida breaks case records daily, I wonder when this will kill my grandparents. Only 14 countries will let Americans visit; Donald Trump gets his wall and we all paid for it.

The Return of Hamilton
In the middle of all of this, Hamilton gallops in riding a unicorn on a golden rainbow path. I'm about to turn 29 years old and I watch it for the first time.
In my opinion, the movie is the canonical version of Hamilton; a permanent time capsule of the show in its prime. Anything else is a new interpretation of the source material. Nothing beats the original cast and the cinematography is stunning. The audio is mixed sufficiently differently from the cast recording to remind you this is a Broadway production as a movie, not simply a music video to the cast recording.
Rewind
Much like the song Satisfied, we need to rewind to talk about what makes this film so incredible. This show was filmed in June 2016, the very last moment America could have been considered great. Hamilton was the most groundbreaking thing Broadway had seen in decades.
We had our first Black president and Lin-Manuel Miranda decided to present America then, told by America today. Hamilton came out at a time when the idea of Donald Trump becoming president was as laughable as the idea of a pandemic hitting America. We were hopeful, even optimistic.
Lin-Manuel brought in hip hop, r&b, and soul music in a way that had never been done before. Rereading Hamilton: The Revolution, I'm reminded of the influence the Notorious B.I.G, Ja Rule, and Tupac had on the music. The founding fathers (and mothers) had never before been played by people of color. This was a huge deal. It was critically acclaimed, it won a grammy, and became a national phenomenon overnight.
Most Americans were barely familiar with Hamilton. In 2013 the Lonely Island released a song called Lazy Sunday. It featured the lyrics "you can call us Aaron Burr from the way we're dropping Hamiltons." The joke here is that Hamilton is the least interesting of the founding fathers. Hamilton, the musical, changed all that.
The Original Production
In summer of 2008, Lin-Manuel is on vacation and reads Ron Chernow's biography of Alexandar Hamilton. He starts working on a mix tape about the founding father. He performs it at the White House in 2009. It goes on to a sold out run at the Public Theater in 2015. Hamilton opens on Broadway on August 6, 2015.
The production is a collaboration of some of the most talented people in the world. Lin-Manuel writes the book, music, and lyrics. It's orchestrated by Alex Lacamoire and directed by Thomas Kail.
The original cast are all pieces of a multi dimensional puzzle. It's not just how each of them play their roles, it's how they all interact with each other. No one has successfully pulled off the Angelica/Eliza dynamic since Renée Elise Goldsberry and Phillipa Soo. Since then, I've seen much stronger Elizas and much weaker Anjelicas that totally throw off the balance.
Daveed Diggs plays Jefferson/Lafayette as a sassy Black man that no one has successfully reproduced since. I do need to mention James Monroe Iglehart gives an incredible, albeit different take on the characters.
All of this is spearheaded by polymath Lin-Manuel Miranda, who writes the music, book, and lyrics, and performs as the titular character. For the two years he's in this role, he lives up to the character by moving a million miles an hour. I always said Lin-Manuel's Hamilton is like a hyperactive puppy begging for attention in Act I.
In Act II, his character is expected to relax a bit. I'd be remise not to mention the other Hamilton, Javier Muñoz. During the original production, Javier played Hamilton at least once a week. I always thought Lin-Manuel gave a much stronger Act I performance whereas Javier does a more even job across the show. I attribute this to the years Lin spent working on Act I as opposed to the many months he spent on Act II. I saw Javier twice and he's my favorite Hamilton other than Lin.
I've seen a lot of Burrs. While my favorite by far is Brandon Victor Dixon, we need to talk about Leslie Odom Jr. Leslie's Burr is the perfect compliment to Lin's Hamilton. While Lin is moving a million miles an hour, Leslie is standing still. He has a bit of a lisp, but every time he shows up for an emotional moment he delivers.
The Room Where It Happens
There was nothing like seeing the original cast live. The movie may win the title of canonical version of Hamilton, but nothing can capture being in the audience. I remember showing up to the theater as early as possible just to spend the maximum amount of time inside.
Everyone in the crowd was so excited to be there, it was more like attending a concert for a band everyone knows, rather than a musical none of us had seen live. As we were entering the theater, we were told to split the line because secret service was taking someone in the back entrance. I later learned I sat in the same audience as Bernie Sanders.
King George tells the crowd to put away their cell phones and the applause is deafening. Aaron Burr starts talking. The crowd goes silent, but the energy is palpable. Alexander Hamilton walks on stage, the show needs to pause for a full minute before the applause stops.
We're taken on a 90 minute journey during Act I. I'm using all of my mental energy to take in everything going on around me. Every time Philipa Soo comes on stage my eyes water. I'm so grateful to be witnessing this performance. I'm surprised to learn that Nonstop is the final track in Act I, as opposed to the beginning of Act II.
We take a break. I go downstairs to use the bathroom, Bernie is trying to use the same restroom as everyone else. There's a mob of people trying to meet him while he goes to pee.
Act II begins. Jefferson struts on stage singing What Did I Miss? America has moved on to hip-hop, but he's just coming back from France and thinks Jazz is still relevant. This is the first time it really hits me that half the cast change roles in Act II.
The first Cabinet Battle begins, we could have been anywhere else in the world, but we were there in New York City. We're treated to a rap battle by some of the most talented performers in the world. I blink and we're in the Room Where It Happens.
We're treated to Christopher Jackson's performance of One Last Time. I'm so grateful I got to see that twice. Hurricane is so brilliantly staged I now appreciate a song I used to skip. We ball our eyes out to It's Quiet Uptown; I blink again and Lin-Manuel is delivering Hamilton's dying soliloquy, my single favorite part in the show.
We hear the ending number and Eliza's gasp. The applause is thunderous. In between tears and applause Taylor and I realize we've just witnessed history. We walk home singing the cast recording.
The Movie
Four years later.
The movie opens with the modern Disney castle set to a remix of the Ten Dual Commandments. I immediately get goosebumps. King George tells the crowd to put away their cell phones, just like he does in the theater.
The text NEW YORK CITY, JUNE 2016, RICHARD RODGERS THEATRE appears on the screen. I'm suddenly aware that this was filmed at the very last moment America could have been considered great.
We very quickly realize this isn't a simple taping of a live performances. In a real theater you get a single view of the stage while you're there. You have to figure out what to pay attention to and who to watch. The movie is different. The camera is moving, there are closeups, its edited such that you're always looking at the right person.
This makes Hamilton so much easier to digest. As the most lyrically dense musical of all time, Hamilton is hard to follow on first viewing. The movie gives you the visual cues you need to follow the story.
The cast is in their prime and most importantly, together. I'm not convinced a reunion of the original cast would produce a better result. They were all at the top of their game and perfectly in sync with each other. Three years of nonstop practice has the actors reading each others minds.
When I saw Lin-Manuel perform in Puerto Rico he was acting circles around an otherwise junior cast. The experience was incredible, but no one will ever live up to the dynamic of the original.
The set is all there. The turntables, the scaffolding, all of it. Lin-Manuel goes out of his way to avoid editing anything out. We can see the sweat across every actor's face, stage microphones are fully present, and Jonathan Groff's spitting becomes a meme unto itself. He did however, give two fucks to get a PG-13 rating.
The movie is a quarantine miracle. In a time when the world is at its worst since World War II, Hamilton provides us some joy. I've watched it five times now and I'm grateful I have this available as a source of comfort.

Hamilton: The Revolution
Hamilton premiered at the perfect moment, the wholesome sunset, the very last moment America could have been considered great. Hamilton is inherently political, it tells the story of the American Revolution told by a diverse group of people, many of whom would have been slaves 200 years ago.
In November of 2016 the cast directly addressed Vice President Mike Pence when he was in the audience:
"We, sir — we — are the diverse America who are alarmed and anxious that your new administration will not protect us, our planet, our children, our parents, or defend us and uphold our inalienable rights," he said. "We truly hope that this show has inspired you to uphold our American values and to work on behalf of all of us."
The Trump Administration has not lived up to this request. I started going through a rather exhaustive list of Trump's crimes and quickly discovered that there are simply too many to list.
Further down, I've copied an abridged version of McSweeny's Catalog of Trumps Worst Cruelties, Collusions, Corrupts, and Crimes, but I'll summarize here.
Donald Trump has attempted to attack and dismantle every institution that once made America great. His invention of alternative facts, and constant attacks on the press, trample on the first amendment. He separates children from their parents and sticks them in cages. He refers to Neo Nazis and Klansmen as very fine people. He demands loyalty from public servants in a way reminiscent of a mob boss, and refuses to cooperate in any investigation that comes within a mile of him.
Donald Trump is the man our founding fathers feared most, an illegitimate president who wants to be king. The 40.2% of Americans approve of him are reminiscent of the 33% of Germans who voted for Hitler in 1933.
These people are a combination of the uneducated, the deplorable, and those who just don't care about their fellow man. The type of person who says "things are marginally better for me and my family, who cares if poor people die." I find these people to be the most repulsive among us, as they not only allow Donald Trump to destroy society, they endorse it.
I don't know if America will have our own Nuremberg, but I know Trump supporters will have a lot of soul searching to do when we stop normalizing evil.
Hamilton reminded us in 2016 what a revolution looks like. It snapshotted the very last moment we had our shit together, and laid out a playbook for dealing with a violent dictator. It gives us the ability to look back at just four years ago, before America had fallen so far from grace.
I can only hope that the message of freedom and justice for all rings true and we can save America from itself.
---

January 22, 2017 – Senior White House counselor Kellyanne Conway said that Sean Spicer's false statements about the crowd size at Donald Trump's inauguration were not lies, but "alternative facts."
January 27, 2017 – At a private dinner, Donald Trump allegedly demanded loyalty from FBI Director James Comey. Comey claimed Trump said to him, "I need loyalty, I expect loyalty." Comey had replied that he would always be honest with [Trump], but that he was not 'reliable' in the conventional political sense. Comey went on to explain why the Department of Justice and FBI should remain independent of each other. Director Comey was dismissed from office four months later.
February 17, 2017 – In what has become a regular attack on free press, Donald Trump tweeted, "The FAKE NEWS media (failing @nytimes, @NBCNews, @ABC, @CBS, @CNN) is not my enemy, it is the enemy of the American People!"
May 23, 2017 - Trump cuts the CDC budget by $1.2 billion.
August 12, 2017 – During the "Unite the Right" rally in Charlottesville, Virginia, neo-Nazis and former Ku Klux Klan members carried tiki torches and shouted slogans including "The Jews Will Not Replace Us." A white nationalist named James Alex Fields Jr. drove his car into a crowd of counter-protesters, killing Heather Heyer and injuring 19 others in the process. After the attack and Heyer's death, Trump he refused to explicitly rebuke the white nationalists. The president placed partial blame for the attack on the counter-protesters, condemning, "hatred, bigotry and violence on many sides." Two days later at a news conference about the "Unite the Right" rally in Virginia, Donald Trump said, "There were very fine people on both sides" of the violence in Charlottesville.
August 21, 2017 – Based on a Government Accountability Office report, each trip to Mar-a-Lago costs the taxpayer $3 million in total. As of today Donald Trump has spent approximately $137,000,000 golfing since becoming president.
October 12, 2017 – While Puerto Rico was still reeling a month after Hurricane Maria made landfall—with 90 percent of the island still without electricity and 40 percent without clean drinking water—Donald Trump responded to critics on Twitter by saying, "We cannot keep FEMA, the Military & the First Responders, who have been amazing (under the most difficult circumstances) in P.R. forever!" Five months after the hurricane, 400,000 Puerto Ricans still did not have power.
April 18, 2018 – Donald Trump ended funding for NASA's Carbon Monitoring System, used to measure carbon dioxide and methane and verify the national emission cuts agreed to in the Paris climate accords.
June 6, 2017 – In more than 50 cases nationwide, children were heard bullying classmates with calls for deportation, references to Donald Trump's name, and blatantly racist language. One eight-year-old girl in California said to a black classmate, "Now that Trump won, you're going to have to go back to Africa, where you belong."
June 15, 2018 – Following the Trump administration's "zero tolerance" policy announced in April 2018, The Department of Homeland Security stated that between April 19 to May 31, 2018, at the Mexico–United States border, there were 1,995 migrant children separated from 1,940 adults being held for criminal prosecution for an illegal border crossing. Trump blamed the Democrats, tweeting, "The Democrats are forcing the breakup of families at the Border with their horrible and cruel legislative agenda."
October 29, 2018 – The United States Government planned to send 5200 troops to the US-Mexico border to guard against what Trump called, "an invasion of our country" by a caravan of 3500 Central American migrants, many of whom were children.
November 6, 2018 – A class-action lawsuit challenged the government's detentions of migrants, including children kept in cages. Under Trump, more migrant children have been in government custody than at any time in American history.
December 22, 2018 – The government entered a partial shutdown as Trump stonewalled Congress over funding for his border wall. The shutdown lasted for thirty-four days — the longest in the nation's history. Trump's action left about 800,000 federal workers without pay.
January 12, 2019 – Trump met with Russian President Vladimir Putin five times over the course of two years, but no detailed record of the conversations exist — even in classified files. The Washington Post reported that Trump went to "extraordinary lengths" to conceal what the two leaders discussed.
February 15, 2019 – Trump declared a national emergency along the United States' southern border in order to acquire his requested $5.7 billion for border wall funding.
September 1, 2019 – Engaged in a trade war with China, the Trump administration implemented 15% tariffs on $112 billion worth of Chinese imports. JPMorgan Chase estimated that the taxes on consumer goods would cost the average American household an additional $1,000 a year.
November 4, 2019 – Four witnesses in Trump's impeachment inquiry defied their subpoenas to testify. The witnesses, all members of the Trump administration, were John Eisenberg, deputy counsel to the president for national security affairs; Robert Blair, assistant to the president; Michael Ellis, senior associate counsel to the president; and Brian McCormack of the Office of Management and Budget. All were under Trump's orders not to cooperate with the inquiry.
December 6, 2019 – The White House refused to cooperate with the impeachment trial, deciding not to send representative counsel to future hearings, instructing officials not to testify, and refusing to hand over documents.
February 24, 2020 – "The Coronavirus is very much under control in the USA," Trump tweeted as the virus spread at an alarming rate. "We are in contact with everyone and all relevant countries. CDC & World Health have been working hard and very smart. Stock Market starting to look very good to me!" Within a few days, the stock market suffered its worst week since the 2008 financial crisis.
March 4, 2020 – Despite dire warnings from the World Health Organization, Trump disputed the deadliness of Covid-19 on a "hunch." In an upbeat tone, he added: "So, if we have thousands or hundreds of thousands of people that get better just by, you know, sitting around and even going to work—some of them go to work, but they get better." The following day, Trump tweeted, "I NEVER said people that are feeling sick should go to work. This is just more Fake News and disinformation put out by the Democrats."

March 26, 2020 – Although health experts around the world have been warning about a pandemic for years, Trump claimed that the coronavirus crisis caught the U.S. by surprise. "This was something that nobody has ever thought could happen to this country," he said. "Nobody would have ever thought a thing like this could have happened."
April 13, 2020 – Trump held a 2½-hour news conference in which he attacked the press. "You know you're a fake," he told one reporter. "Everything we did was right," he said. He also incorrectly said that the power to reopen the country rested solely with him, not governors. "When somebody is the president of the United States," he said, "the authority is total, and that's the way it's got to be."
April 17, 2020 – Trump used Twitter to call on protesters to challenge governors' stay-at-home orders. "LIBERATE MICHIGAN!" and "LIBERATE MINNESOTA!" he wrote about two states that mandated social-distancing restrictions. He also urged Virginians to resist stricter gun-control measures in that state, writing, "LIBERATE VIRGINIA, and save your great 2nd Amendment. It is under siege!"
April 25, 2020 – "I never said the pandemic was a Hoax!" Trump tweeted. "Who would say such a thing?" Two months earlier, at a South Carolina rally he said, "Now the Democrats are politicizing the coronavirus," he told the crowd on February 28. "And this is their new hoax."
May 6, 2020 – The Centers for Disease Control and Prevention put together a 17-page report advising Americans on when they could reopen the economy. According to a CDC official who spoke on the condition of anonymity, the Trump administration prevented the release of the report, telling the CDC that it "would never see the light of day."
May 18, 2020 – Trump confirmed that he was taking hydroxychloroquine, a drug he had long praised even though medical experts warned that it could be dangerous and was not shown to combat Covid-19. "I started taking it, because I think it's good," he said. "I've heard a lot of good stories."
May 22, 2020 – Calling houses of worship "essential," Trump told governors to reopen them, despite the pandemic. It was not certain if Trump had that power. Nevertheless, he said of the governors, "If there's any question, they're going to have to call me, but they are not going to be successful in that call."
May 29, 2020 – Grief-stricken and angry, many people in Minneapolis took to the streets to protest the killing of George Floyd, an African American man who was killed by a white police officer who pressed his knee into Floyd's neck for nearly nine minutes. On Twitter, Trump responded by calling protesters "THUGS," a racially loaded term. For the second time in a week, Twitter attached a warning label to his tweet, in which the president seemed to condone violence, writing, "Any difficulty and we will assume control but, when the looting starts, the shooting starts."
June 23, 2020 – Trump's family filed a petition to block the publication of a tell-all book by Mary L. Trump, the president's niece. Trump said Mary Trump was "not allowed" to write the book because of a nondisclosure agreement she signed in 2001. The book's subtitle calls her uncle "the world's most dangerous man."