C-c-c'mon, c-c-c'mon, Go Go. Much like Jeremy waiting for, his "internet" to load, I spent all this week getting excited about the very first preview of Be More Chill. Soundtrack on repeat, waiting for the upgrade.
Let me tell you, this show deserves every bit of the hype surrounding it.
For the uninitiated, Be More Chill tells the story of Jeremy, a nerdy high schooler who takes a pill that plants a supercomputer in his brain. The computer tells him what to do that so he can be cool. Eventually, things go off the rails, because of course they do.
Be More Chill originated at the Two River Theater in New Jersey and eventually transferred to the Perishing Square Signature Center, an Off-Broadway theater. I was fortunate enough to see the Off-Broadway production last year, and it's the reason I have tickets to see it another three times in 2019.
This review is about the first preview at the Lyceum Theatre on February 13, 2019.
Music and Plot
This is very much a soundtrack driven show; the majority of plot development happens during the songs.
The show opens with the fun and catchy song More Than Survive. This song sets up the entire plot of the show and introduces most of the characters. Not too much changed here from the Off-Broadway production, however they toned down some of the sexual comments from the original production. Don't worry, Jeremy is still waiting for his "internet" to load.
The titular song Be More Chill perfectly introduces the Super Quantum Unit Intel Processor (SQUIP) and has the hilarious interlude Do You Want a Ride. The delivery of the line "do you wanna get inside my mothers car" kills. Another great line "everything about you is so terrible, everything about you makes me wanna die" perfectly captures teenage angst in a way I haven't heard since My Chemical Romance.
For the Broadway production, they added Sync Up, a new song that replaces More Than Survive (Reprise). This new song does a good job of foreshadowing most of the themes that come up later in The Pitiful Children.
Another big change in this production, Upgrade is split into two songs, Upgrade and Loser Geek Whatever. Upgrade suffers a little bit from this, but Loser Geek Whatever is such a powerful end to Act 1 that it seems worth it.
Upgrade was also the first time I noticed the new theme, wanting to be seen. This theme is tied in at the end as well. I'm withholding judgement on this until after previews. It felt a little tacked on, but, then again, it's the biggest change from the original production, and I've had the soundtrack on repeat for months.
Two of the most fun songs in the musical are Halloween and The Smartphone Hour. These songs contain some of the best jokes in the musical, which I don't want to spoil.
Michael in the Bathroom is one of the most relatable songs I've heard in a long time. George Salazar shows an incredible vocal range during this performance, and is by far my favorite actor on stage. This song perfectly captures the universal experience of feeling alone in a crowd.
Cast
The brilliant music by Joe Iconis is delivered by a stellar cast.
Will Rolland plays the protagonist, Jeremy. This is a hard role as Jeremy needs to develop at just the right pace as he adjusts to his SQUIP. Will does a fantastic job of slowly fixing Will's posture, tone, and general body language throughout the show. During Loser Geek Whatever the actor needs to deliver a powerful emotional range and Will nails it.
Stephanie Hsu is perfect as Christine Canigula. No notes. Her big opening number, I Love Play Rehearsal is one of my least favorite songs on the soundtrack, but one of my favorites on stage. Every joke Stephanie throws lands flawlessly. It's also wonderful to see a developed female lead. Christine is passionate a lot, has mad, gigantic feelings about most everything, and lets everyone know it.
George Salazar is the best one. Sorry, not sorry. Michael is the character I identify the most with as he's such an unapologetic nerd. He's also a much better friend than Jeremy deserves. He also has the honor of singing Michael in the Bathroom, one of the best songs in the musical.
Jason Tam is so much fun to watch as the SQUIP. Even though he's playing a supercomputer, Jason captures the energy of a kid with too much confidence. We probably shouldn't look up to this kid, but we do anyway. As an aside, the Puffs fan in me desperately wants to see Evan Maltby in this role.
Tiffany Mann is probably the most talented vocalist on stage, however she's underutilized. She plays Jenna Rolan, the school gossip, and uses every chance she gets to show off her voice. I'd love to see more of Tiffany in the future.
The popular kids, particularly Lauren Marcus as Brooke bring an energy reminiscent of Mean Girls. Katyln Carlson as Chloe and Britton Smith as Jake are also great in their roles and play off of each other perfectly.
Gerard Canonico deserves his own mention as it's his job as Rich to set the stage for what we can expect from the SQUIP. Gerard plays a great school bully and an even better awkward teen with a lisp at the end.
Jason Sweettooth Williams plays the father, Payless employee, and Mr. Reyes. Each of these characters is kind of a joke, and Jason knows how to deliver these characters while still being relatable. Also props to anyone who's comfortable walking around a Broadway stage in their underwear.
Stage
The stage wasn't too different from the Off-Broadway production, although it's certainly bigger. It's also impressive on its own. The set is bordered with live displays that project various animations, sets, and videos for different parts of the show. This is particularly impressive during Two-Player Game when they project a video game as the background.
I like to joke that the default pattern is a Herschel grey because it looks so much like a backpack.
The set itself isn't very unique, but it is effective for the show.
Audience
One of the best things about attending a first preview is being part of the audience. Every member of the crowd was so excited to be there, and they all applauded, laughed, and screamed at all the right moments. Unlike Hamilton in PR there wasn't a cell phone in sight.
I also enjoyed seeing the number of people who cosplayed as the various characters. Dressing up isn't for me, but I appreciate when a show has that level of excitement around it.
Theater
I'm a bit disappointed they decided to host this show in the Lyceum Theatre. The seats are small and cramped, and the layout of the place feels out of date. Getting around the theater was consistently difficult before, during, and after the show.
I am glad they picked a smaller theater however. The Lyceum Theatre is 922 seats, well below the Broadway average. This will make it easier for this show to consistently sell out and stick around for a while.
Branding
Something that doesn't often come up is the way a show is branded. Normally I wouldn't notice it, but Be More Chill underwent a significant rebrand during the off/on Broadway transition.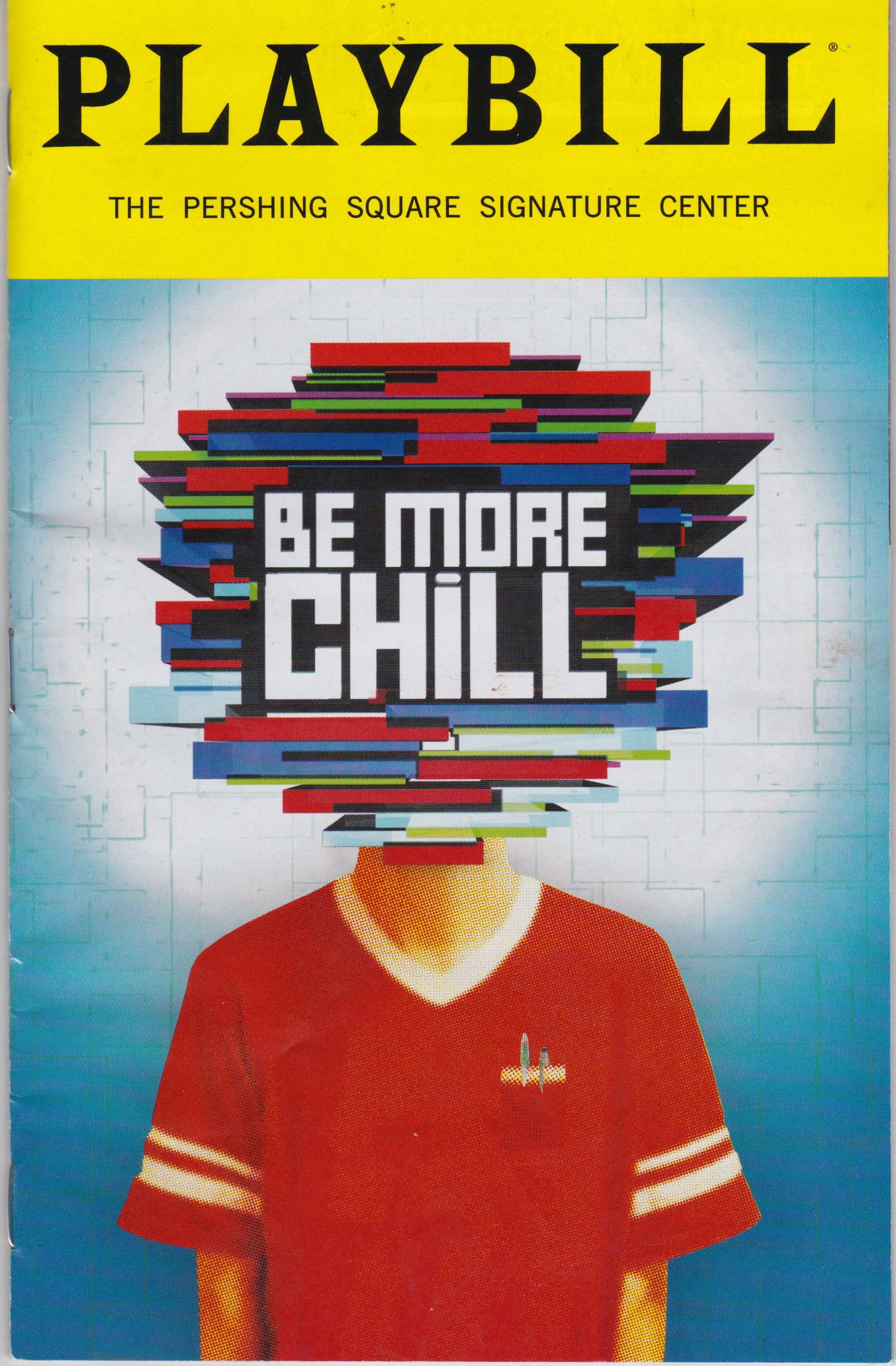 The pill colors of the original playbill are gone and replaced with purple video game vibes.  This produced a lot of purple  merch, which I'm a big fan of.
I also love the Be More Chill font, especially the pill over the letter I.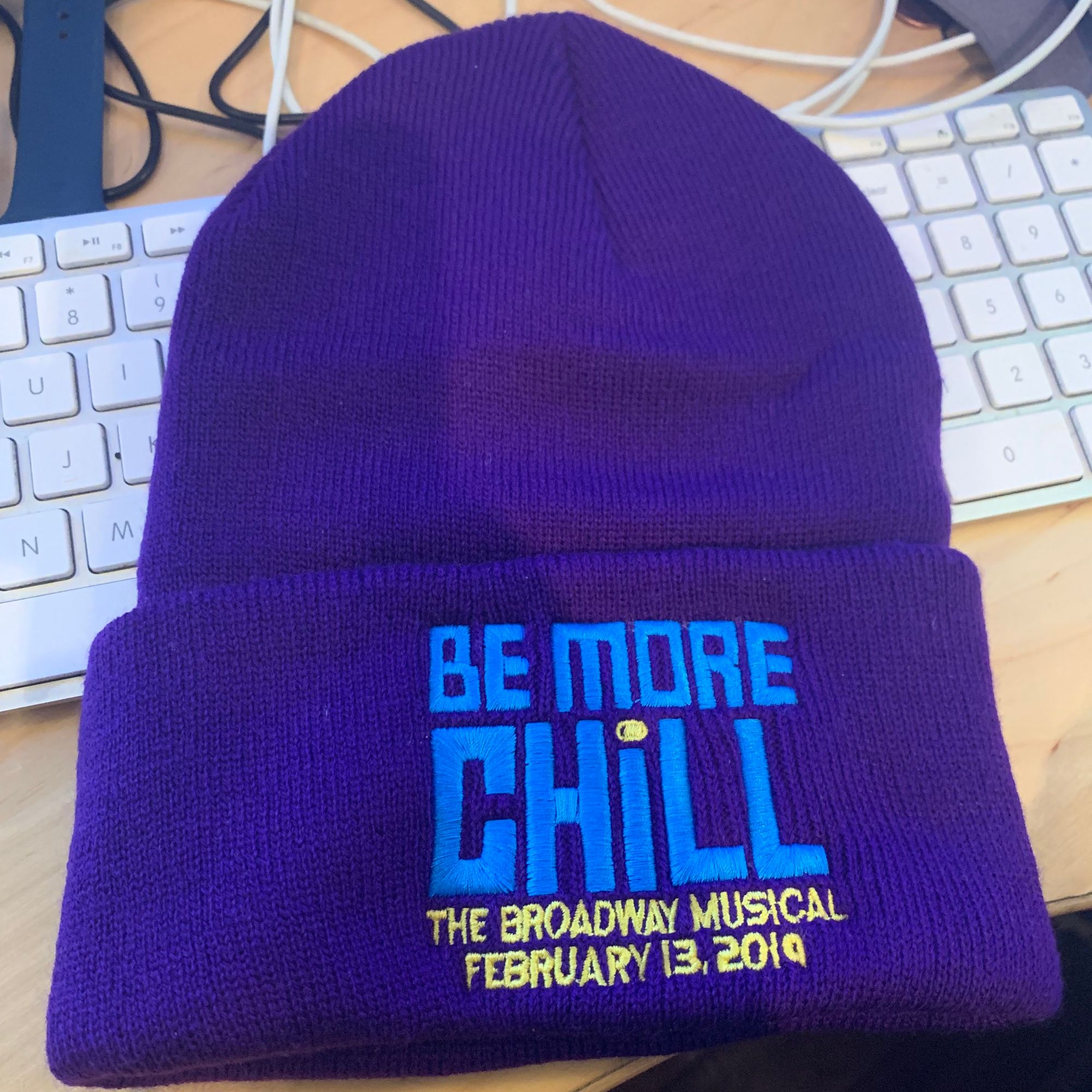 Ratings
Music: 10/10 - Will continue to listen to the off-Broadway soundtrack on repeat until the Broadway soundtrack is available.
Cast: 9/10 - Everyone is a perfect fit for their role, although I'm holding out for Evan Maltby as the SQUIP.
Audience: 10/10 - One of the best audiences I've been a part of. I hope the fans never change.
Stage: 7/10 - The set wasn't particularly novel, but it got the job done.
Theater: 5/10 - The Lyceum needs to be renovated.
Branding: 8/10 - Change is scary but I also like the color purple. ¯\_(ツ)_/¯
Overall: 9/10 - This is a phenomenal show that will hopefully be around for years. I can't wait to see it after previews.
---
Ads
These ads help me pay to keep this site up. Feel free to buy, watch, listen, or ignore these like any other ad.